FUN FIT SPORTS KIT
A huge thankyou to PAUL EVANS and his COACHES FROM EVO'S FOOTBALL who ran our Sponsored Fun Fit day. As you can see from the photos all of the children thoroughly enjoyed being outside playing football. Could we also thanks Friends of Edenderry for organising the day. Please remember to send in your sponsorship money - every penny will be used to benefit the children.
PUPIL OF THE WEEK - Friday 15th March 2019
I welcomed some very proud pupils to the staffroom this week. They were delighted to be Pupil of the Week. Keep up the great work.
PUPIL OF THE WEEK - Friday 8th March
This was a busy week in school. Well done to all those who received a Pupil of the Week Certificate
WORLD BOOK DAY
Great effort by so many pupils(thank-you parents) and staff. We has a great World Book Day!
WORLD BOOK DAY
A huge thank-you to Paul Evans and his coaches who helped the pupils in P1, P2 & P3 celebrate World Book Day. You can see from the photos that he children thoroughly enjoyed listening to the stories. Many thanks to Paul and the boys for their support and for highlighting the importance of reading.
Chief Superintendent Peter Fararar and Judge Patrick Lynch visited the P3, P4 and P6 classes and read a favourite story to the pupils. They shared the importance of reading for enjoyment and for work and answered many questions about regarding their careers. Thank you for sharing your books and encouraging our children to read.
We are proud to announce that P2 pupil Aiobheann, who recently had her hair cut, has donated her wonderful plait to the Princess Trust. We think she looks great with short hair but she is already planning to let it grow so she can donate again!
PUPIL OF THE WEEK - Friday 8th February
Great effort, attitude and work and earned all of the children below the reward of pupil of the week.
Table Tennis Success
Pupils from P5, P6 & P7 recently took part in a local table tennis competition. Congratulations to all of our pupils who came home with gold medals. Many thanks to Arnold Morgan who does so much to promote table tennis in Banbridge and coaches all of the schools who participated in the competition.
PUPIL OF THE WEEK - 1st February 2019
It is always wonderful to have new pupils receive the Pupil of the Week certificate but this week Ava came back for her second time. Well done Ava!
PUPIL OF THE WEEK - Friday 18th & 25th January
On Friday we celebrated Pupils of the Week from two weeks. Well done to all.
Edenderry welcomed students from the Confucius Institute at Ulster University. The children had the opportunity to dress in traditional Chinese costumes, wear masks, play games and have their name written in Chinese. Some of our pupils were able to practise their Chinese with urthe visitors. We look forward to welcoming the Chinese New Year.
PUPIL OF THE WEEK - Friday 11th January 2019
A super start to the New Year. Well done to our Pupils of the Week. We are missing the P5 pupils, they will be added next week.
Congratulations to Lucy and Dylan. They are the first pupils in Edenderry to receive Ambassador badges. They have demonstrated the four key qualities of Respect, Responsibility, Kindness and Co-operation and are super role models in our school. We look forward to awarding more badges in the future.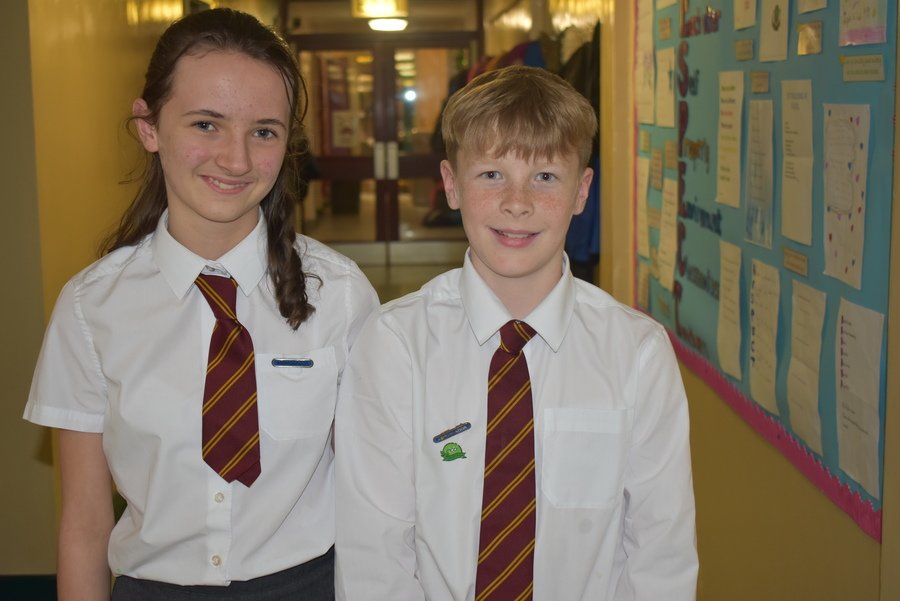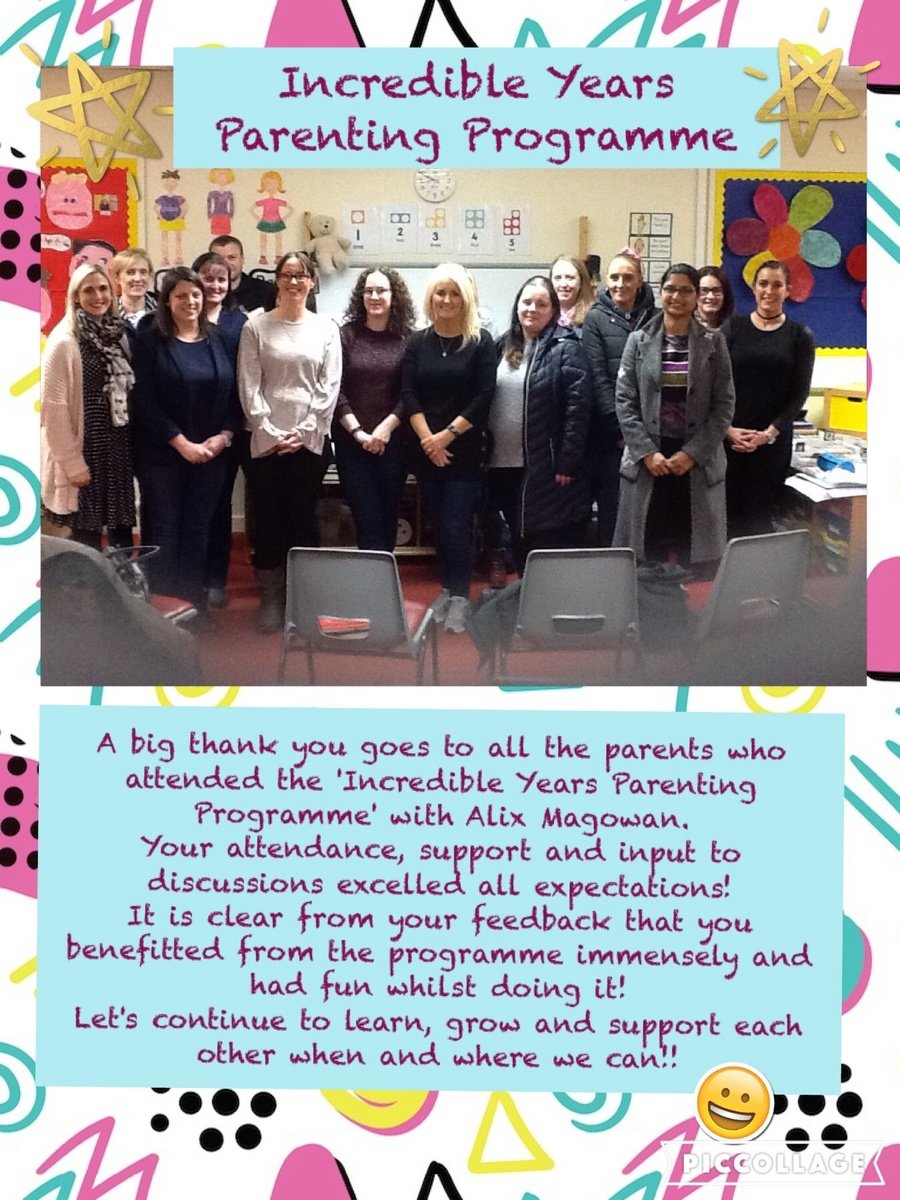 Congratulations to Flynn.
Flynn joins an elite group of Edenderry pupils as he is only the third recipient of a Black Band. A super achievement, he has demonstrated the values we strive for - Respect, Responsibility, Kindness & Cooperation.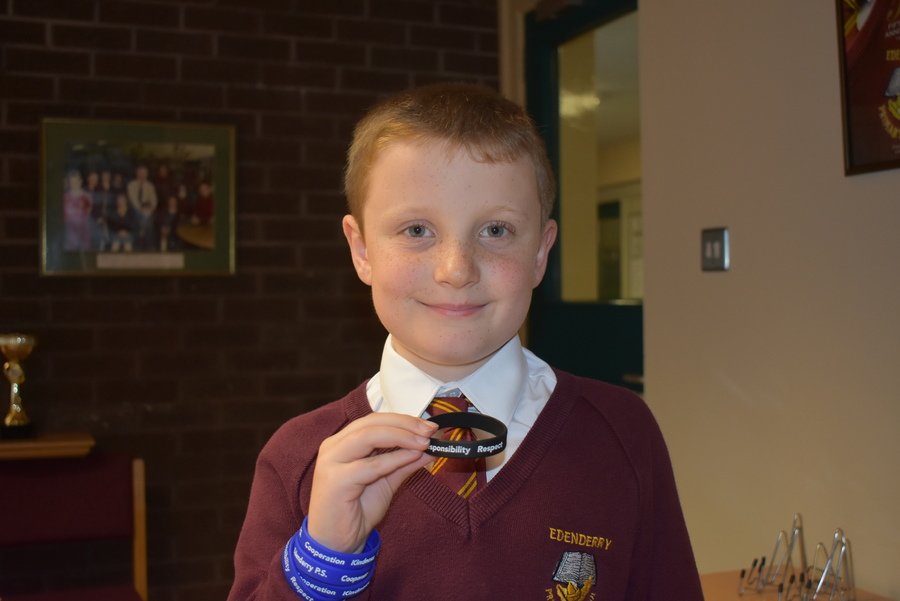 MacMillan Coffee Morning
A huge thank you to all the parents, family and friends who supported our coffee morning. The children also had the opportunity to purchase buns and biscuits for their break.
To date an amazing £1046 has been raised!
P7 Leavers Assembly
This was Mr Wilson's last assembly with us and a very enjoyable occasion for everyone. A big thank you to our special guest Paul Evans who organised and ran a very successful Sports Day and presented the school awards. Well done to all our P7s and all the award winners. Good luck for the future.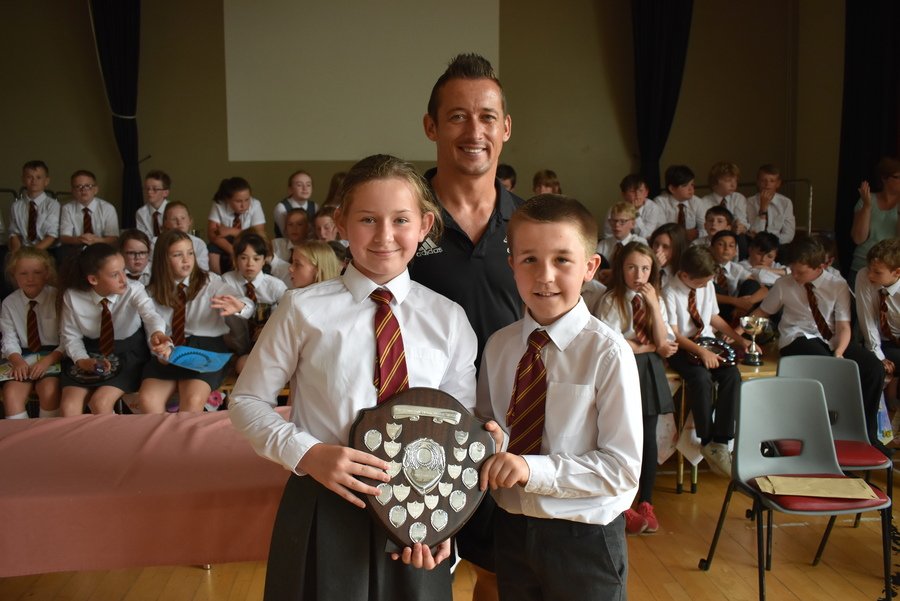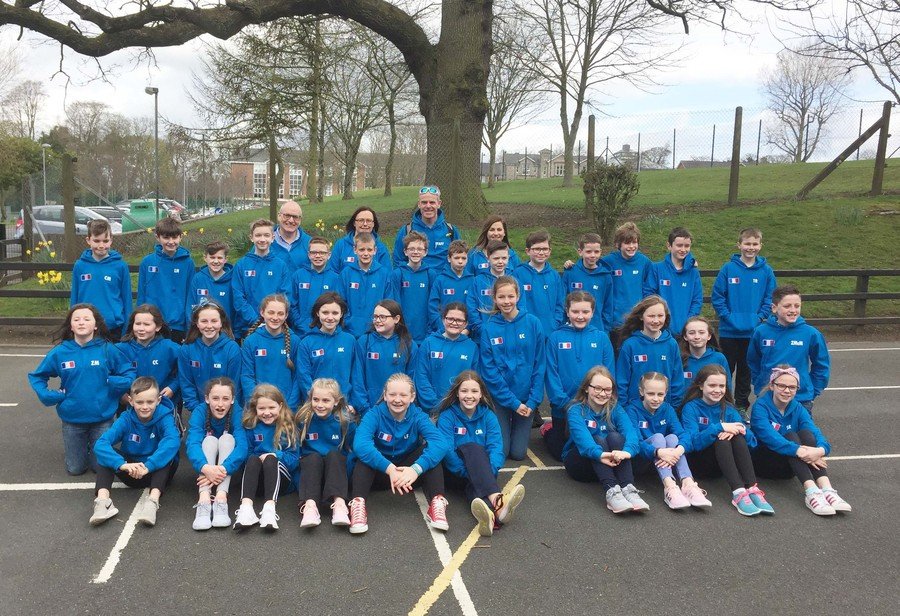 P7 pupils and staff heading off to Paris.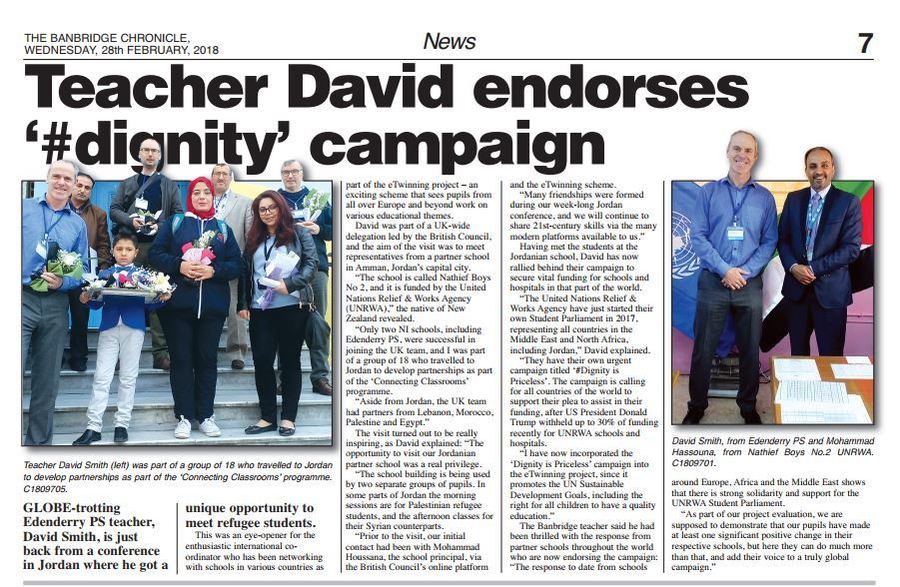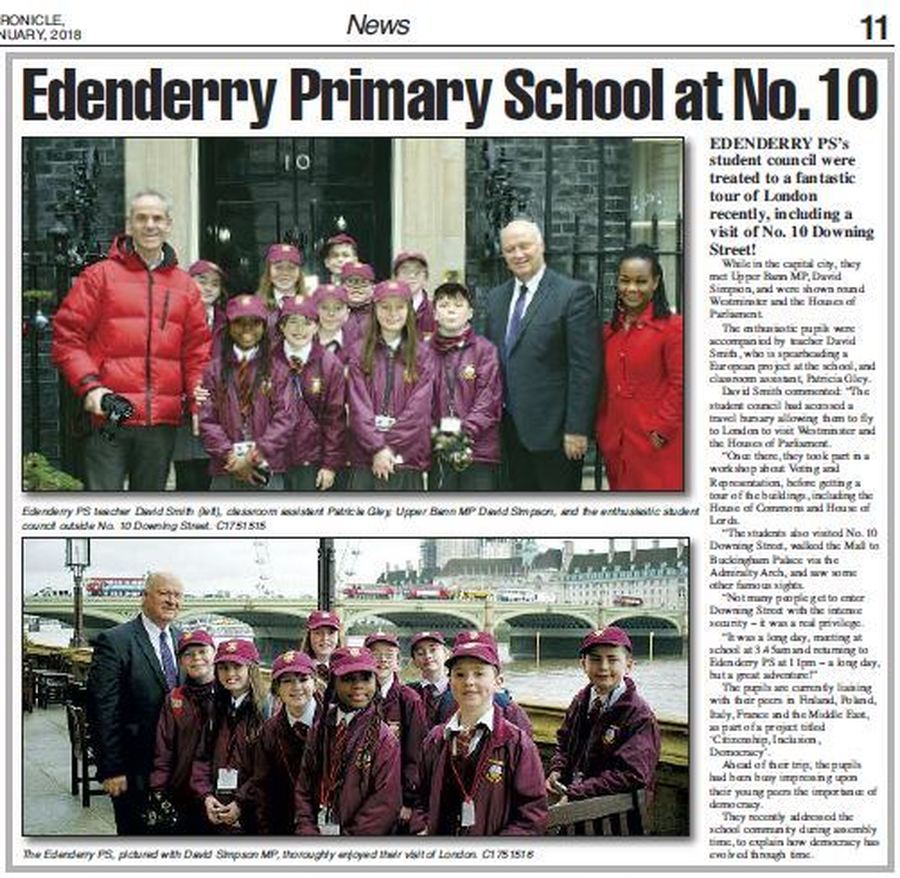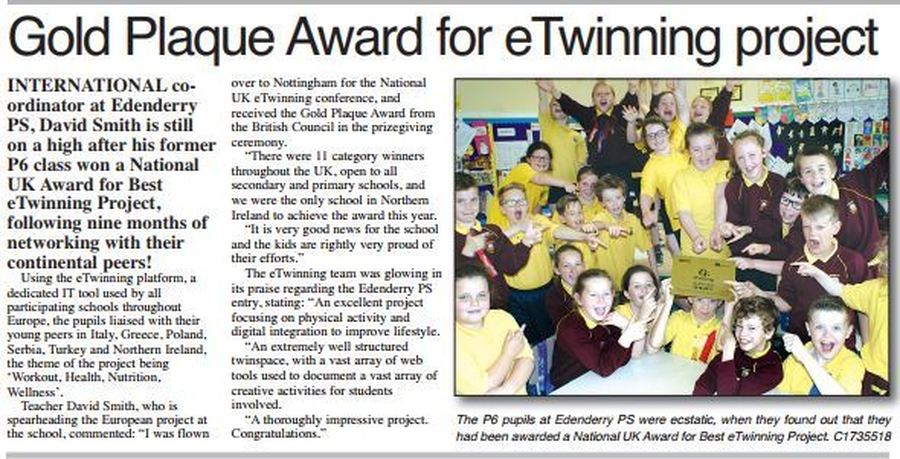 PTA-UK Gold Star Awards
Fundraising Achievement (Northern Ireland)
Great news - the 'Friends of Edenderry', our P.T.A., have won the NI category. Well deserved recognition for all their hard work.
School details are available by clicking the Parent Notes icon and downloading.