PROTECT YOURSELF AND OTHERS
CHARITY FUNDRAISER
Mr Kirkland and Mr McRoberts recently completed the Mourne Wall Walk, walking 22 miles in one day. raised a total of £735 which will be split between The Children's Cancer Unit Charity and Angel Wishes. They would like to thank pupils, parents and staff for their generous support.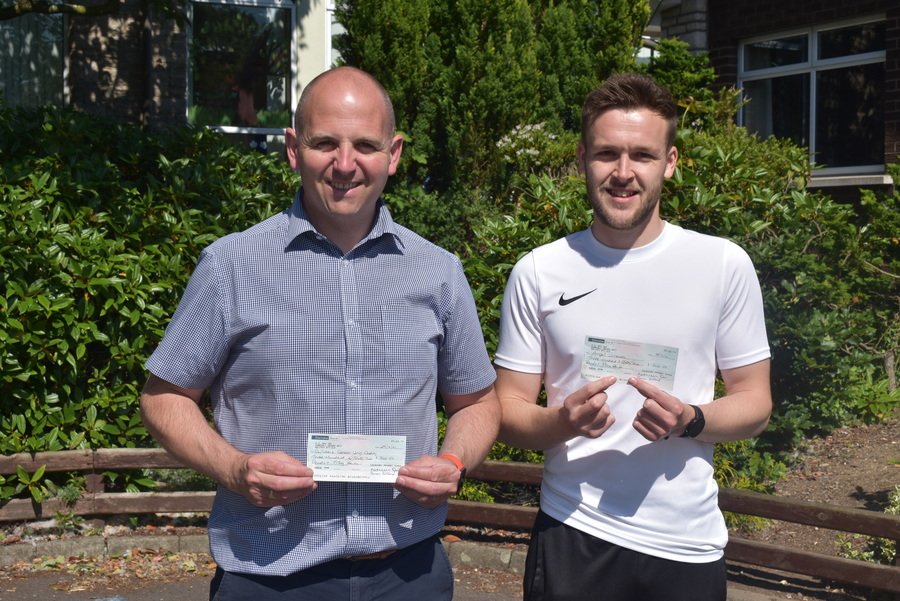 Congratulations to the P7 pupils who received prizes at the final assembly.
Today our heroes in P7 walked out for the last time. We wish them all the best .
SPORTS DAY 2021
Never mind the Euros - Edenderry enjoyed Sports Day!
Many thanks to Mr Finlay for organising the day - great job! Thank you also to Paul Evans for the loan of equipment, it was much appreciated. As you can see from the smiling faces it was a great success.
On Wednesday 26th May all of the pupils participated in a Mile-A Day. Some walked, some ran but all enjoyed the event. Many thanks to Mr Finlay who organised the event and thank you for your contributions to Mr Kirkland and Mr McRoberts' fundraiser. Donations are still being accepted. We will share the amount raised shortly.
PUPIL OF THE WEEK - 14th & 21st May 2021
Congratulations to all those who received certificates. It has been a busy month so two weeks were received together.
THE PURPLE PICNIC
Today all of the pupils and staff enjoyed a 'Purple Picnic' in the school playground as part of Mental Health Awareness Week. The sun shone and the children and staff enjoyed having lots of classes(in their bubbles)in the playground at the same time. There were many purple items, I think the most popular was a well known chocolate bar but nobody wanted to share with me!
P4-P7 pupils enjoyed The Purple Picnic! Lots of goodies to eat - can you spot the purple pasta and purple rice?
PUPIL OF THE WEEK - Friday 7th May 2021
Well done to the pupils of the week. Many were selected for continuous hard work and positive attitude.
Forest School
Primary 4 had a wonderful time going outside and enjoying the fresh air during their Forest School lesson. This week they were focusing on their team building skills by working together to build little houses for the elves. They gathered natural materials, worked with their classmates and found the best ways to build and decorate their structures. They can't wait until nexts weeks lesson!
PUPIL OF THE WEEK - Friday 30th April 2021
The pupils continue to amaze me with their positive attitudes, perseverance and wish to do their very best. Again the teachers told me of the difficulty they had in selecting just one pupil. I think I may have to change this to pupils of the week!
PUPIL OF THE WEEK - Friday 16th & 23rd April 2021
Last Friday I did not get the chance to visit the classes to find out who had received pupil of the week. Fortunately the pupils were quick to remind me on Monday that I hadn't done this so this week we have both pupils for both weeks.
Congratulations to our Pupils of the Week. They are wonderful role models who have worked hard and have very positive attitudes. Many of the teachers had great trouble picking just one pupil for last week and this week.
WINDSOR BAKERY DONATES £250 TO EDENDERRY PRIMARY SCHOOL
A huge thank you to the Windsor Bakery which has very kindly donated £250 each to seven local Primary Schools. The money was raised during an eighties themed week in February.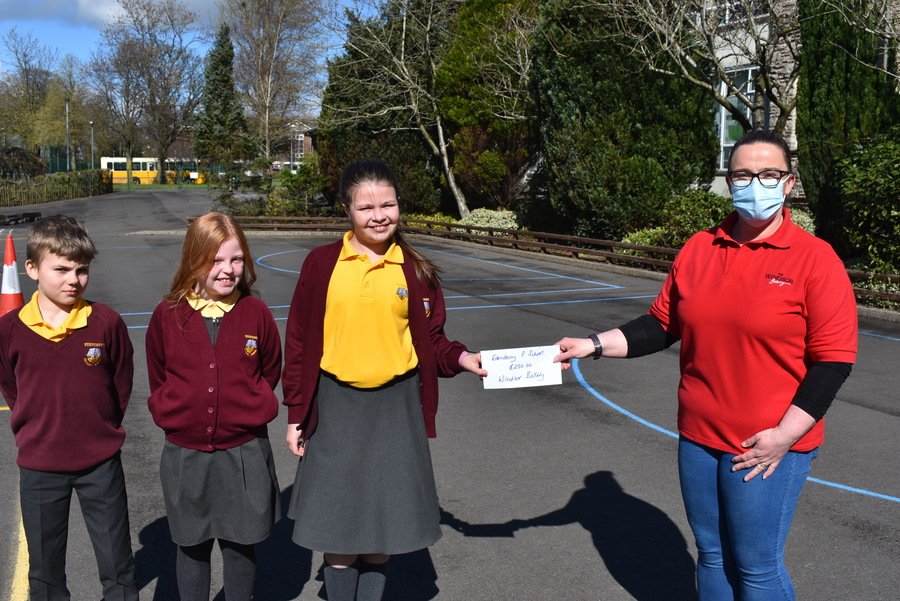 PUPILS OF THE WEEK - Friday 26th March 2021
This week we welcomed back the P4 - P7 pupils. Many of the teachers highlighted the positive attitudes of the pupils and their willingness to try their very best. Well done to all of the Pupils of the Week.
PUPILS OF THE WEEK - Friday 19th March 2021
The P1-P3 pupils are delighted to be back in school, They are working very hard and certificates are well deserved.
PUPILS OF THE WEEK - Friday 12th March 2021
It has been wonderful to be back in school with the P1 - P3 pupils and we are so pleased to learn that they will remain in school until the Easter holidays! We now look forward to hearing a return date for the P4-P7 pupils.
This week we decided we had to have more than one pupil of the week. Well done to all who received certificates and for so many different reasons. We are very proud of you. We would like thank the parents (and other family members) for all of the hard work you have put in during home schooling, we can see the impact it has had on your child.
It was wonderful to have the P1-P3 pupils back in school today. The staff were delighted to see their smiling faces and were amazed at the growth spurts that have occurred. Thechildren quickly got back into their routines -handwashing, play time and completing their work. Can't wait until tomorrow!
Topsy Turvy Day
On Friday the pupils and staff enjoyed participating in 'Topsy Turvy Day' to raise money for local charity 'Via Wings'. Outfits were inside out, back to front and upside! Shoes were odd and hairstyles crazy. We are still counting money but so far over £1000 has been raised. Donations can still be forwarded to school for this very worthy cause.
PUPIL OF THE WEEK - Friday 4th December
Congratulations to the Pupils of the Week - and there is one surprise in the photographs. One class decided that it was time for an adult to receive a certificate - well it was 'Topsy Turvy' day! Many thanks to P3McG for being so thoughtful. You will see I have captured Mrs Singleton's total surprise when her name was announce by the children in her class. It is wonderful that her kindness is appreciated by the boys and girls.
Congratulations to three newly appointed School Ambassadors - Molly, Ruby and Tomas.
PUPIL OF THE WEEK - Friday 27th November 2020
The pupils really are not making it easy for the teachers! Each week, as I visit the classes I am told that there are a number of pupils who could be selected, so very well done to those who received this week's certificate. I know that for the remainder of the pupils, your week will come!
PUPIL OF THE WEEK - Friday 20th November 2020
It was a real treat to visit all of the classes in school today. P1 were busy learning a new sound, I was able to read great independent writing in P2. Soup and scones were being made in the Learning Support Classes, the P5 pupils shared their Egyptian artefacts and P6 were debating screen time and climate change!
Many of the teachers found it really difficult to pick a Pupil of the Week but congratulations to those who were selected.
Many thanks to Mr Smith who obtained saplings from The Woodland Trust to plant in the school grounds. The P6 pupils, with the help of Mr Smith and Mr Finlay, enjoyed planting the saplings in a maze which was designed by the pupils. We will enjoy watching it grow.
PUPILS OF THE WEEK - Friday 13th November
Well done to the Pupils of the Week. I enjoyed visiting all of the classes in school (on this occasion at the door). The children had lovely manners and a very positive attitude to their work. The teachers were able to share some of pieces of work which earned the title of Pupil of the Week.
PUPIL OF THE WEEK - Friday 6th November 2020
Congratulations to all of the Pupils of the Week. Super attitudes, lots of effort and beautiful manners! I know many of the teachers found it really difficult to pick just one pupil.
PUPIL OF THE WEEK 15th October 2020
I am delighted to announce the return of Pupil of the Week. As this week was special I decided that two pupils from each class should receive a certificate. Well done to all the boys and girls who received a certificate today and for so many wonderful reasons.
Unfortunately, the children are not able to meet me in the staffroom for juice and buns instead I went to each classroom to present the certificates, take a photo and give a treat! I look forward to giving out more certificates when we return to school.
Congratulations to the newly elected P7 House Captains. The P7 pupils elected four from each class. We know they will do a super job!
Our P7 leavers say goodbye to Edenderry - we'll miss you all.
On 11th November Edenderry welcomed visitors from Jordan, Principal of Nathief Boys UNWRA number 2 school, Mohammad Hassouna and two of his pupils, Abdullah and Ahmad. They spent time with our pupils learning about life in Northern Ireland and sharing their experiences of Jordan with the staff and pupils.
MacMillan Coffee Morning - Friday 27th September 2019
A huge thank-you to all who supported Edenderry's MacMillan Coffee Morning. We are pleased to announce £1 241 was raised for this very worthy cause.
BANBRIDGE FUN RUN -Wednesday 22nd May 2019
Thank you to Friends of Edenderry who organised the participation of Team Edenderry in the town's Fun Run. Many more pictures in Friends of Edenderry page.
It was a fabulous event and we all had a great time.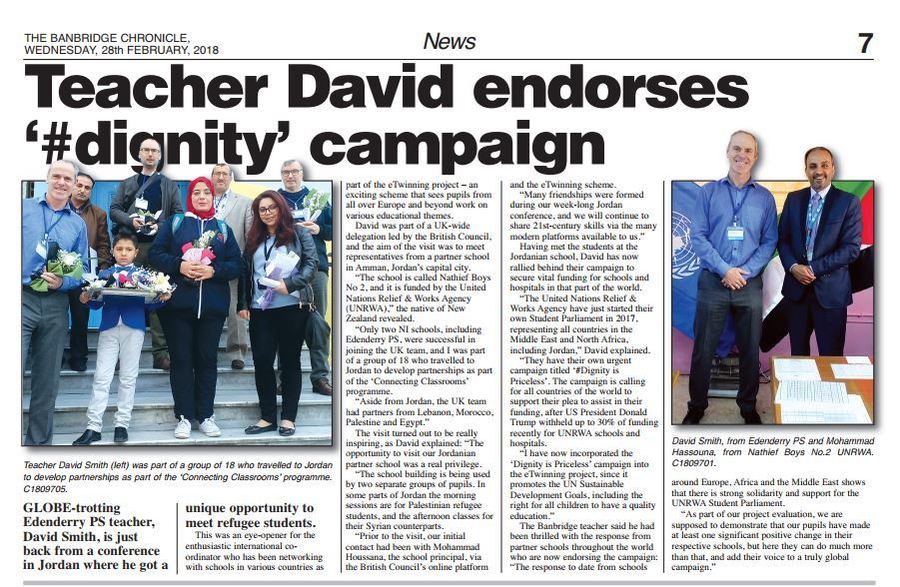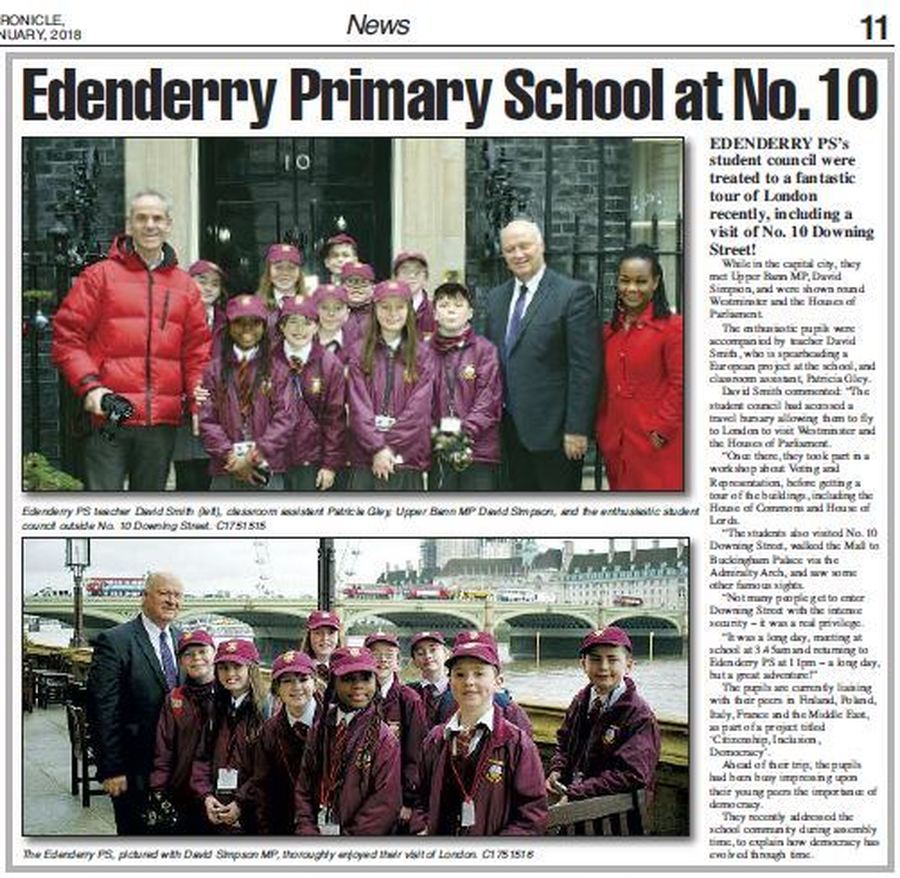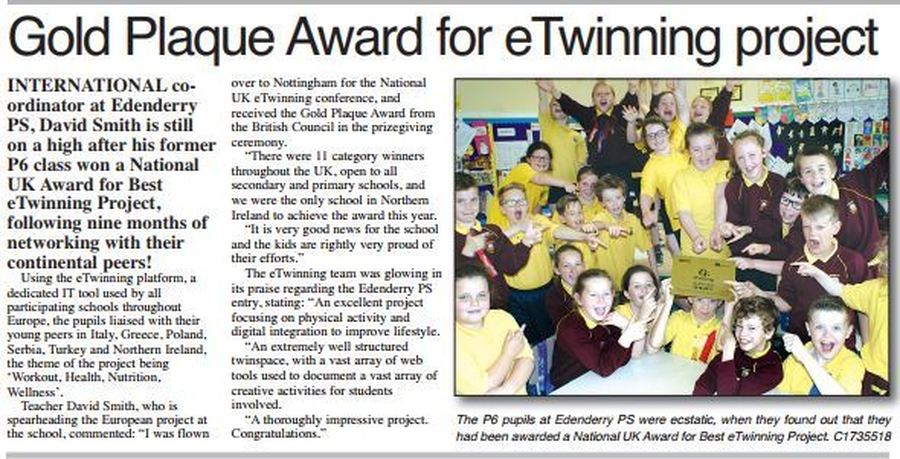 PTA-UK Gold Star Awards
Fundraising Achievement (Northern Ireland)
Great news - the 'Friends of Edenderry', our P.T.A., have won the NI category. Well deserved recognition for all their hard work.
School details are available by clicking the Parent Notes icon and downloading.