School Council 2019-2020
Elected council House Captains Ambassadors
P7 - Adam, Nancy, Ryan, Flynn, Owen, Faith OAK Molly, Martha Lucy Tasja Lucy Harvey
P6 - Ella , Adam/ Dexter, MAPLE Katie, Mark Ellie C Maddison Kizzy
P5 - CHESTNUT Patrick, Amy Abbie M Emma Lydia Grace C. GraceMc.
P4- Lewis, Lucy, Bella, Finlay BEECH Maddison, Tara Alyssa Sydney Nathan
Visit the Edenderry School Council News http://kidblog.org/EdenderrySchoolCouncilNews/
Edenderry pupils in P7-P4 please click on the following link to complete the UNRRSA Questionnaire.
Thank you. (The Edenderry Student School Council.)
Edenderry School Council begin application for UNICEF Rights Respecting School award
A small steering committee headed by Tasja, Eva and Matthew are beginning the process of application to the UN for the above award.
News Flash !! Two Finnish teachers are coming to Edenderry thanks to an Erasmus KA2 Job Shadow programme to look at our School Council and how it operates in our school. More to come soon.........
We have completed the 2nd Mobility in our Erasmus project by hosting Finland, France and Spain. 43 students and 8 teachers came to our school to make friendships, learn with and about us with a focus on the Science subjects.
Edenderry's Ambassadors
We have now appointed eleven ambassadors in our school, all are excellent role models.

School Council visit Number 10 and Westminster....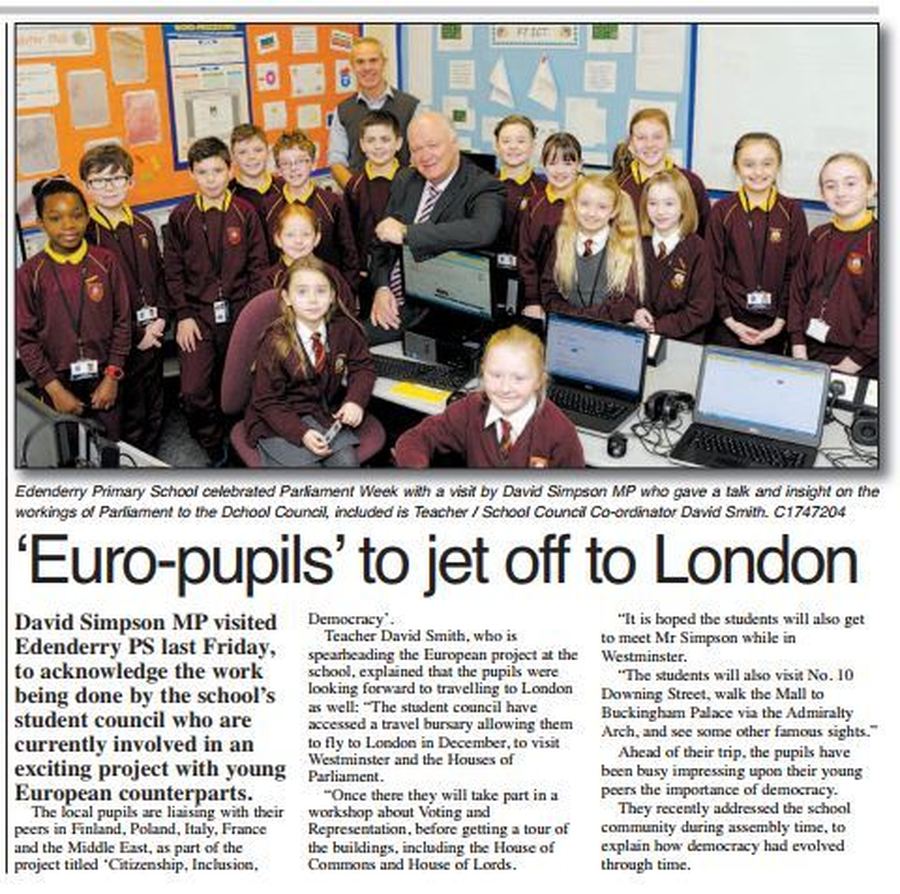 Below are some of the findings from the School Council 'Mile A Day' survey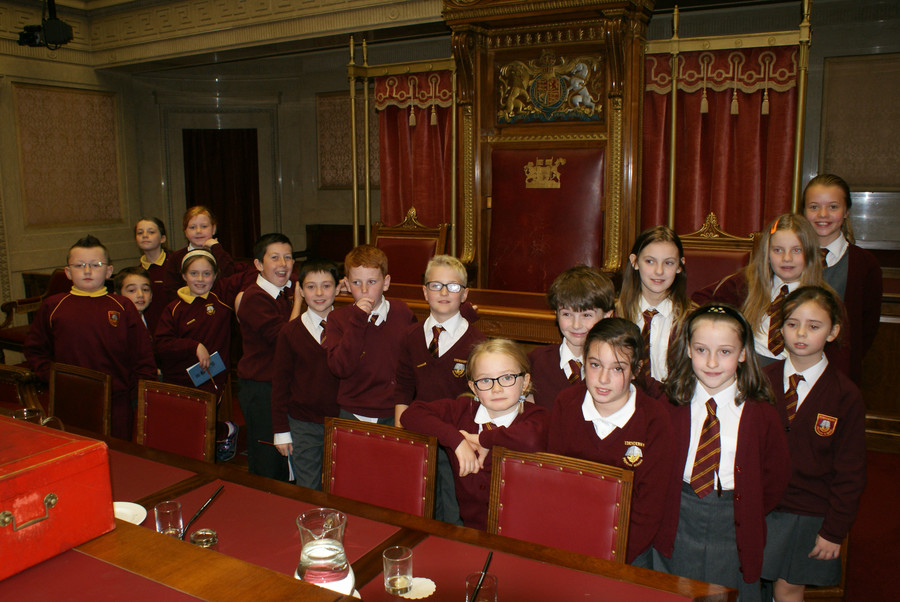 _________________________________________________________________________________
Northern Ireland Assembly ART COMPETITION!!
Get your entry to your class student council representative by Wednesday 7th MARCH.
It must be on A4. Themes are 1.Remembering the TITANIC
2. My WORLD. family, friends, community or hobbies.
Click on the link below for more details.
_____________________________________________________________________________
School Council to visit Stormont
http://www.schoolcouncils.org/category/newsletters/
_____________________________________________________________________________
Read some comments from a previous School Councils' visit......
(Amy) I enjoyed the blue room the best because we debated in the debating chamber. We were split into two groups. I was sitting on the Sinn Fein seats and arguing for having uniform!.
(Ryan) I liked the great hall because it was made out of marble.
(Conor) The debating chamber was ornate and well designed. Our guide said that the wood used in the panelling is the same as used in a Roll-Royce.
(Alex) I liked the 'secret door' in the debating room. You use these when the vote seems like a draw. The people all walk out the 'Aye' door or the 'No' door.
(Andrew) I was amazed by the woollen helicopter in the great hall.
(Zac) I enjoyed voting by walking through the secret doors, I voted 'No' uniform.
(Dylan) The Red room was best for me. I liked the expensive paintings.
(Ellie) I liked playing the games in the lecture room and finding pairs of politicians.
(Katie) I liked the games room and getting to vote for a candidate for having rock n roll at school.
(Luke) I liked the paintings in the great hall.
(Matthew) I enjoyed the history of Stormont, especially when they covered Stormont in manure to darken its white walls to black it out during WW2.
(Matthew) I liked debating in the main hall and when we got to drive up the 'mile' road leading to Stormont.
(Adam) I was amazed at the quality of toilets at Stormont!
(Jack) The security at Stormont is like an airport. You have to put your bags through the x-ray machine and then walk through a metal detector. We were all given security passes.
Shagatom!
Welcome to our friends from the Panchagarh region of Bangladesh!!
Moslem, Leon and Shahina were visiting a number of schools in Banbridge as part of our ongoing Global Schools Partnership between Banbridge and Bangladesh.
Our partner school is Harivasa Government Primary. They have a very similar number of students as we have here in Edenderry but only 7 teachers!!
Class numbers are very high but their work and behaviour are superb. We have communicated via mail swapping art scenes from our respective countries and at present we are writing penpal letters.
Look at Shanti's work from year 5 (10years old) at the Harivasa school.
Mr Wilson welcomes (in order) Leon, Moslem and Shahina from the Panchagarh region of Bangladesh.
Mr Smith hands over art work, a dvd and Edenderry's discussion forum for our friends in Harivasa.
Sudhir Kumar in India.
Sudhir Kumar is a fit and fine boy.He wants to be a teacher when he is older. He enjoys study and is learning English. He is very enthusiastic and likes games, art, and reciting poems. He and his parents are very grateful to Edenderry for your support.
The School Council will be organising some fund raising activities to assist Kumar in his life in eastern India. He lives close to Bangladesh. If you have ideas please tell your class School